Thanks to today's advances in orthodontic technology,  orthodontist Dr. Brent Hurst provides patients with more treatment options than ever before when it comes to wearing braces . While regular metal braces are still widely used, clear braces are very popular, along with removable appliances such as Invisalign. Contact our office for a complimentary smile exam to learn more about the different types of braces we offer .  Dr. Hurst and his team will help you determine which orthodontic treatment option is right for you based on your personalized needs.
Traditional Metal Braces
Traditional metal braces are the most common type of braces and are smaller and more comfortable today than ever before. Made of space age metal alloys, metal braces straighten your teeth with brackets and archwires. With metal braces, you have the option of adding colored elastics (rubber bands) for a more unique and colorful smile.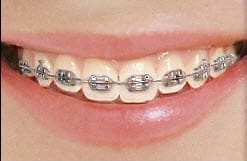 Ceramic Braces
Ceramic braces are made of clear materials that are less visible than metal braces. Ceramic braces are often the treatment of choice for teenagers and adult patients who are concerned about how they look during treatment. While they are less noticeable, they do require more attention when brushing, since they are larger and cover more of the tooth surface. The discoloring of the elastic ties is also more noticeable when eating certain foods and smoking in between visits to the orthodontist.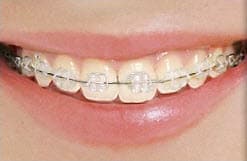 Invisalign or Invisible Braces
Clear appliances, such as Invisalign, use a series of invisible, removable, and comfortable aligners to realign your teeth. No one can tell you are straightening your teeth because they are invisible! Also,  you can eat and drink what you want while in treatment, brushing and flossing is much easier and less time consuming, and the aligners are comfortable to wear.